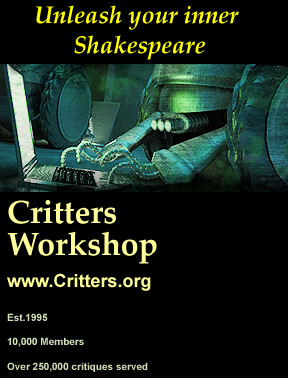 Critters
is a free online critique group for science fiction, fantasy, or horror (adult or YA). In my fifteen years as a writer, I've sought critique from a variety of forums (other websites, in person workshops, forcing my family read my work, etc.), and
Critters
is my favorite thus far.
Critters
is the first place I've had good luck in getting my ENTIRE manuscript critiqued. I used the "request for dedicated readers" process and got FIVE intelligent and perceptive fellow writers to read and critique my entire novel. Their critique helped to transform my manuscript into something I am (even more) proud of.
For those of you who like a little order in your world, you'll adore
Critters
. You critique other people's work and people critique yours. It's fair and reliable. I was a little overwhelmed by all the rules at first, but it's actually quite simple to submit and critique, so don't be scared off. :)
I want to personally thank Dr. Andrew Burt and his "minions" for creating and maintaining such a great site. If you're not a science fiction/ fantasy/ horror writer, you still have a home here.
Critters
recently expanded into
http://critique.org/
with critique workshops on everything from literary fiction to website design!
And now for my shameless plug...if you do decide to join
Critters
, check out my revised manuscript for
Stormland
, up for critique from today until June 1st.