It's really, really, really close now! I don't know the exact time that
The Charge
will go up on Amazon but my publisher is submitting it soon and hopefully it will appear by early tomorrow morning. Don't worry though, I'll be shouting it from the mountain top when it goes live, I doubt you'll miss it. :)
I've been through a roller coaster week which included several freak-outs, but now I just feel like celebrating. My dream has come true! I think I'm going to go out tonight and drink something blue in honor of
The Charge
.
I'll be all over the internet in the coming weeks. Here are my blog appearances for week #1. Please stop by and say hi!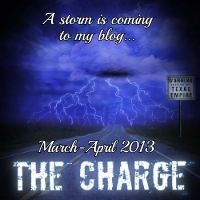 Schedule for Week #1
3/1 - Author Interview at The
Language of Once Upon a Time
3/2 - Chapter One of The Charge on the
Curiosity Quills Blog
3/5 - An audio reading from The Charge on
Charity Bradford's blog
3/6 - A Simple Guide To Re-Writing History on
Eliza Tilton's Blog
3/7- Twitter Party 6-8pm CST at #CQChat
3/7 - The Lone Star: Symbolism in The Charge - Guest Post with
Michelle the Symbologist
By the way, I haven't forgotten that I owe you winners from The Worldbuilding Blogfest Contest! Having a blogfest before your release seems like a good idea, but I've been a little distracted. I've read through the entries and just need to pick a winner, now that will be good distraction for me so I have something to do besides refresh novelrank. :) I hope to post winners soon.