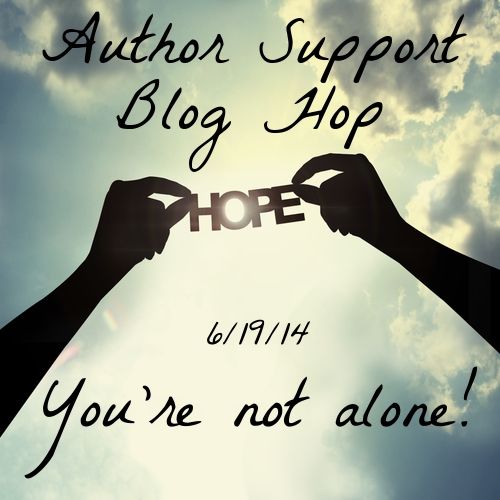 Welcome to the
Author Support Blog Hop
! Being an author is hard. Yeah, that's right. We don't spend our days pondering over novels in our mansions while our butlers bring us fresh espresso. Very few authors make enough money to write as a full time job. But, we do it anyway!
If you're like me, you wouldn't have it any other way. Not writing is NOT an option. But, that doesn't make jugging a writing career with a day job, family, and other responsibilities any easier.
So in today's bloghop, we discuss our crazy lives and how to manage them. Here are some ideas for what to put in your post:
WHAT do you do? Give us a summary of your crazy life and all your responsibilities
HOW do you do it? How do you manage to find time to write? What tips can you share?
WHY do you do it? Other than just sheer insanity, what keeps you going? Why have you chosen the life of an over-stressed author? What keeps you motivated during dark days?
QUESTIONS and PLEAS for help. Other authors will be reading your post, so if you have questions or want advice, you can ask. Also, if there is anything you need, or anything you can do to help others, mention that here as well.
As for me, I live a pretty hectic life. My husband and I tag team taking care of our 2 kids (4 & 1). He works during the day as a teacher, and I work at night as a tobacco cessation counselor. We both work full-time and don't have regular daycare arrangements.
I don't have a "writing schedule" or daily word count goals. Every moment I'm awake, I'm either at work or dealing with two very active boys. And, since I work until late at night, I don't get to enjoy much quiet time while the boys are sleeping. Time to write does not exist. However, I have managed to write three novels, and part of two more.
How? Well, I write sometimes while my kids watch television. I also write on the weekends when my husband is off from work and can help watch the kids. Since my husband is a teacher, it's also easier to find time in the summer.
In short, it's always a struggle. I'm constantly behind. I always have e-mails to answer, dishes to wash, laundry to do, and of course editing and writing to do. I'm never caught up and feel like I'm treading water to keep afloat. And, I'm stuck here. I have no intention of quitting writing, I can't quit my job, and obviously I wouldn't quit my family.
Why do I do it? That might be the hardest question, not because I don't know why I do it, but because it's so obvious to me, it's hard to put into words. I love to write. It gives me something to look forward to. Something to dream about. A way to be myself. I can't imagine not writing. So, it's happening. Period. I don't care how hard it is.
This is my life. My stress level is high, but I am very aware of the fact that I have a great life. One day, I mentioned to my husband, "I didn't know I could be so stressed and still be...happy."

As for help, just support me and all your fellow authors by buying books, writing reviews, and spreading the word!
Thank you for participating! I wish you all peace, hope, and strength. You're doing what you love and reaching for your dreams. That's a wonderful thing and it's worth it!