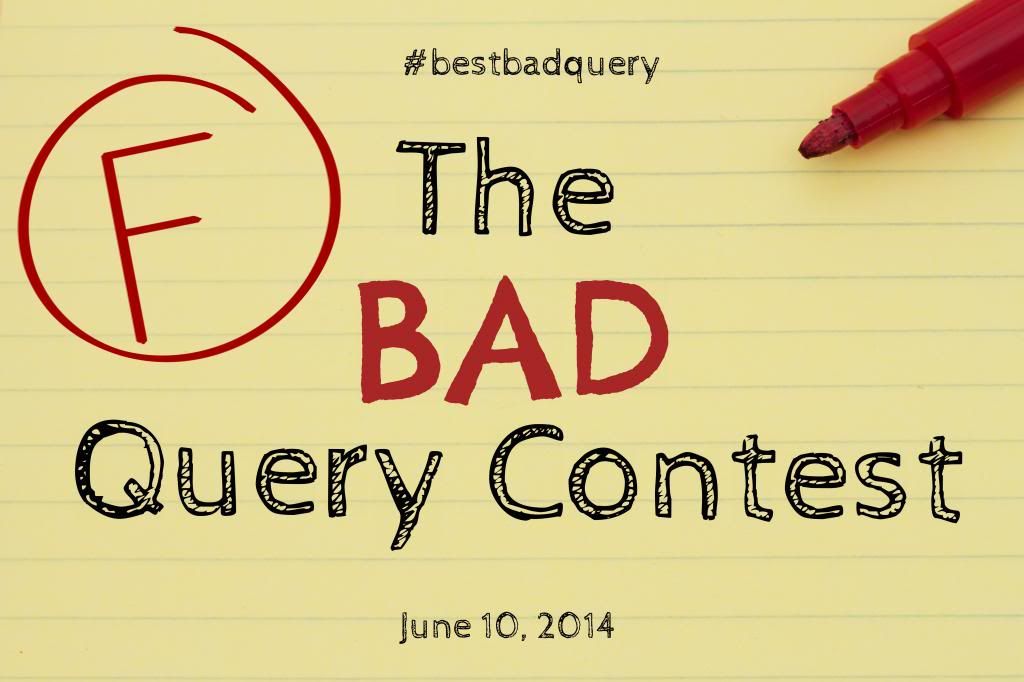 We had a lot of truly terrible queries to choose from, but you have picked a winner! Congratulations to
Gina Denny
! You stunk up the page better than anyone. Gina, please e-mail me (or use the contact me form) with your e-mail address so I can send you your $25 Amazon gift card.
And, in case anyone is just tuning in, this a contest for the best fake bad query...these talented writers wrote these as a joke. Any resemblance to real bad queries is purely coincidental. ;)
Here is Gina Denny's horrible query. It is so terrible--it's genius. Well done.
Dear Agents,

In a world where magic has been almost completely eliminated, I am Soozziey, a sorceress hiding in plane sight from those who would do me in. I have a problems that can only be solved by one person who's name is Chahruls - The Chosen One.

Have you ever wondered what would you do if you had to convince someone to help you when they have no reason to help you at all?

Chahruls and Soozziey travel through the kingdom of Farafel, escaping from legions of Scrapellium soldiers and meeting the Grungle creatures of the Redoin Realm. Jyssyie and Eric are there too for some reason. And summer is coming.

As we go about our adventures we run into all kind of trouble and problem and we sort of get attracted to each other... I don't know its confusing. You'll have to read the book to really know what I'm talking about LOL.

HIDING IN PLAIN SIGHT: THE TRUE STORY OF HOW I FINISHED MY QUEST - A FICTION NOVEL is an adult fantasy romance western adventure story and is complete at 47,561 words. This is book one of a five book series.

I would say this book would probably appeal to readers of all kind, but mostly to fans of HARRY POTTER, TWILIGHT, THE DA VINCHI CODE, and GATSBY, the movie, not the book because I didn't read that book LOL.

I am currently completing the revisions ofthis novel but will gladly send you chapters as I finish them, one at a time. I have attached the first five chapters, each one in there own pdf documents. I know your submission guidelines says three chapters, but I have finished five and you're definitely gonna want to see all five that are so far done.

Please call me when you have time to discuss this and negotiate your roll in making this novel a bestseller and then someday a movie that stars Charlize Theron.

I have been writing since I was two-years-old and have taken, like, five community college classes on writing, if you count my English 101 class.

Thank you and godspeed.

- Gina Denny
I have no words. That's just BRILLIANT! It's got everything a bad query needs. I think my favorite line is, "Jyssyie and Eric are there too for some reason."
In second place, we have the very talented
Jen Estes
. I knew she was awesome. But I had no idea she was so awesome at being horrible. Check it out:
Fasten your seatbelts, 'cause I'm about to make your day with my 40,000-word erotic fantasy, Turtle Recall.

It's late 2014 and tortoises have enslaved mankind, led by their slightly grumpy turtle overlord, Count Leatherback, and his identical quadruplet brothers, Viscount Loggerhead, Lord Snapper, and Bob. But there's dissention in the reptilian ranks when Bob meets Randi, a coquettish grass wench who manages to melt his cold-blooded heart. Together Bob and Randi embark on a "grassroots" movement to prove to the rest of the tortoises that humans are turtles too.

Turtle Recall… it's The Notebook meets Yertle the Turtle. You have twenty-four hours to make an offer. Clock's a-tickin'.
I was laughing by line one. An erotic fantasy about turtles. Wow...just wow. I love it.
And tied for third place, three more awful queries for your reading pleasure...
My Dearest Literary Agent;

YOU.

Imagine you. You are alone. You are cold. Your skin prickles into fine raised bumps across your entire body, each hair sensitive to the blowing breeze. A tremor runs through your body, traveling from the ends of your finely combed champagne locks to the very delicate diamonds settled on the rose that adorns the manicured nails on your chilled, slowly blueing toes. HARK. A SOUND. Your head audibly snaps to the right as the world shifts around you, settling the viewer's mental imagine into a scene of you, sitting in a dark corner and alone.

The corner is dark. And you are truly alone.

Your HEART SINGS OUT TO YOU. You feel it ripping through your body and all sense of conscience is LOST. There is no hope, for you are alone. And you are cold.

OH YONDER ELEGANT STEPS OF GOLD is the story about a football player who has succeeded in everything he's ever done, including school and romantic interests. Then one day, it suddenly gets cold. And we realize that the all-american boy who played ball is actually a girl who never really liked football in the first place. She just enjoyed how warm it was in the uniforms.

And without her uniform, she is alone.

And cold.

I look forward to your immediate response and understand that since this book is a high-grade work of literary fiction, akin to those written by Hemingway and Fitzgerald, I should expect a multi-book deal.
I love "head audibly snaps." That's quite cringeworthy! I also love that this query makes absolutely no sense.
Hey Hottie,

Do you want to make a million bucks? Of course you do! And I have the perfect book to do it. This idea is so great, that I can't even tell it to you or anybody else. If I did, somebody would steal it. But I can tell you this much, it's going to be a bestseller, maybe better than Harry Potter. And if you get in on it now, you can ride the money train all the way to the bank!

If you send me a really great advance and a contract, I will tell you the whole thing. But here's what I can tell you now, to get your imagination started… UNICORNS ON SPACESHIPS! I don't know if that will be the exact title, but, awesome, right? It's going to be an edgy, adult, science fantasy romance mystery series– probably ten books or more. I've written the first two chapters and my close friend and my mother both say it's the best thing they've ever read… and they read a LOT of books!

Another thing I can tell you: I'm doing some experimental, literary work with it. I think the best way to really bring the reader into the story is through the under-utilized second person point of view. But that's not all, it's future tense! I know, right?! It's like a fortune teller is revealing the reader's future… in space… as a unicorn! It'll probably have to be about 160,000 words for the first book. My creative writing teacher says the 5,000 word story I wrote last week could easily be a novel. And this idea is about 32 times better than that one. I already mapped the galaxy on graph paper and outlined the whole history of the special race of unicorns.

I'll need you to make me a website and send me to book signings all over the world, first class, of course. But I'm sure you can see those dollar signs racking up as you read this, right? Get back to me in one week with your best offer and if it's higher than the other offers I get from the one-hundred fifty-six top agents and publishers I'm sending this to today, your future will be golden! (See how awesome that second person future is?)

Make my day,
J. K. Wymore

P.S. Did I mention the main character's name is Detective Graftrass? I'm enclosing a sketch I did of her.
Tell the truth James, this query is real isn't it? You really sent this out. If so, I have some great unicorn spaceship ideas and I'd be happy to collaborate with you on a sequel, IF you send me a million dollars first.
Dear Agent:


Have you been slogging through the slush in hopes of finding the next international bestseller? Well look no further! I guarantee you, agent, that in my fiction novel, you will see a future of skyrocketing sales and awards rivaling today's big names and sure to shoot your career to the next level. One of your current clients, who has asked to remain anonymous for now, agrees that you MUST read this book!

So what do you say, agent? Are you ready to leap into the future of publishing with this one-of-a-kind manuscript? I urge you not to miss out on the chance of a lifetime! But I do not fear, for I know YOU are the unique agent SMART enough not to pass up this golden opportunity.

You may be waiting for some more details before signing on, and I trust you, agent, so I will share some pieces of this absolutely unique work with you.

Told in seven perspectives, this revolutionary manuscript details the challenges and triumphs of vampires, werewolves, and angels, all battling each other in Los Angeles. (This story would also make a great movie!) With star-crossed lovers, brutal battles, and so much more, this fiction novel is one any audience will love! Though I have no formal background in writing, this manuscript has been expertly written and needs no modification before publication — it's ready for the world NOW.

Worry not, I do also have several self-published books, just waiting to be discovered by the masses. And I feel in my heart (and those who have read it agree!) that this manuscript will propel all of my works to the top of every bestseller list, worldwide. So don't miss out!

I know by now you are ready and excited as I am to negotiate your fee and sign a contract, after which I will gladly send you my 164,000-word manuscript.

Looking forward to your forthcoming call,

The Most Awesome Author You'll Ever Know

I love that you said very little about what the book was about...and what you did say was completely insane.
And, here are some honorable mentions. Thank you Jenna, Ashley, & Elsie for these nominations:
Most Intriguing Plot - Elsie Elmore
Most Enjoyable Repetition - Meli at Oh My Word!
Best Worst Mixed bag of Genres - Jenna at Fans of Fiction
Best Worst Name for Villain - Goldiwort by Dan Koboldt
Best Worst Plot Twist - Meli at Oh My Word!
This was SO fun!!! Thank you all for participating. I'm thinking maybe we should try bad Twitter pitches next, although I don't know if anyone can beat turtle erotica.